Bring Home a Seed Character Today
Honestly, could they be more adorable? Available exclusively at Wild Birds Unlimited, we offer several fun seed characters, including Hoot the Owl, Rascal the Raccoon and Preston the Penguin. Each is a mix of seeds, nuts and fruit and a wonderful addition to any yard.
These characters can help you attract many of your favorite birds, including chickadees, woodpeckers and goldfinches.

The Season's Not-so Lone Rangers
Remember the Lone Ranger? Ever notice how he wasn't really alone? He always had his trusty sidekick, Tonto at his side. Why? Because there is strength in numbers.
Well, there is strength in numbers in bird feeding, too.
During fall and winter, some nuthatches, titmice and chickadees search for food together in a "foraging guild."
This results in many eyes looking for 1) the now dwindling supply of natural food and 2) potential predators. Birds in the guild recognize each other's alarm calls. This lets the guild keep a collective watch for predators and allows the individual birds to concentrate more on finding food.
Fortunately, chickadees, nuthatches and titmice are some of the hobby's most adored feeder visitors. They're small and cute, their movements are quick and erratic, and though they're gone from feeders just as fast as they arrived, it's easy to be a big fan of these little birds.
Chickadees, nuthatches and titmice are also typically the first and easiest birds to attract to feeders in a wooded setting.
They have a mixed preference for sunflower (in and out of the shell), safflower and peanut pieces for caching (to retrieve and eat later), ingredients found in many of our exclusive seed blends, cylinders, Stackables®, Jim's Birdacious® Bark Butter® Bits and more.
Visit us soon and we'll make sure you have everything you need to see more of these not-so-Lone Rangers in your yard.

Providing High-Fat Foods
Typically, your feeders serve as a supplemental source of food for birds in your yard. In contrast, during periods of cold and severe winter weather, your birds may switch to utilizing them as the critical source of food that enables them to survive from day to day.
A 3-year study in Wisconsin concluded that when temperatures fall below 10 degrees, Black-capped Chickadees without access to feeders have only a 37% survival rate as opposed to the much higher 69% survival rate for those able to utilize feeders.
If chickadees are representative of other feeder birds, then your feeders can make a big difference in the number of birds that survive the winter.
Also, birds may burn up to 10% of their body weight in stored fat each night to stay warm…and this fat must be replaced every day.
Be sure to keep your feeders filled with the high-energy, high-fat foods that provide your birds with the crucial nutrition they need to survive.
High on the list of best choices to meet this nutritional need is Jim's Birdacious Bark Butter. This peanut butter-based treat is loaded with fat and protein and is known to attract more than 100 species of birds.
Stop by the store soon, and check out the wide selection of high-fat foods that will help your birds fatten up and stay warm.

Solving Blackbird, Dove and Pigeon Problems
Sometimes you just have too many blackbirds, doves and pigeons. They can eat more than their share of food and chase other birds away. However, there are several solutions to keep these birds from monopolizing feeders.
The Right Food
Many birds will sweep through seed blends to find the seed they want to eat. Uneaten seed gets tossed to the ground. By offering the right blend for the feeding situation, you can reduce the mess that accumulates below the feeder and eliminate the problem birds that hang around the area.
Try offering:
blends loaded with oil sunflower. They are less likely to be picked through and swept to the ground.
safflower. It's a small, white seed that is high in protein and fat. Many of your favorite birds will readily eat safflower; blackbirds, like starlings and grackles, typically do not.
a no-mess blend, preferrably without millet, and/or a high quality blend that contains sunflower, safflower or peanut pieces.
Avoid offering:
discount blends with cereals and fillers, such as wheat, oats, barely, milo and flax seed. These just end up in a pile under feeders.
corn, especailly cracked corn. Blackbirds, doves and pigeons love it.
Feeder Solutions
Though adding a tray to the bottom of a seed tube or finch feeder will minimize mess, it allows larger birds, like pigeons and doves, to dine easily. Deter larger birds from visiting your existing feeder by adding an On-Guard™ wire mesh cage. Our On-Guard solutions are designed to allow smaller birds access but prevent doves, pigeons, even blackbirds from reaching the food in a feeder. We offer a variety of cages that easily fit on our seed tube, finch, peanut, suet and some of our specialty feeders.
Solution Feeders
We offer a variety of feeders that help you feed only the birds you want.
EcoTough® Upside-down Suet Feeder - This feeder is designed to allow birds to feed from below, a comfortable practice for woodpeckers, nuthatches, chickadees and other clinging birds but difficult for starlings.
Dinner Bell™ feeder - Use this versatile feeder to offer a number of different foods. The Dinner Bell's adjustable dome can be raised and lowered to allow access for smaller birds.
The Eliminator™ and Fundamentals Squirrel-proof feeders. Both of these feeders are weight-sensitive and will close off access to the food when heavier visitors, such as squirrels, pigeons and most doves, sit on a perch.
Introducing Our New Hot Pepper Seed Cylinder & Suet Cylinder!
Birds love our exclusive seed cylinders and no-melt suet cylinders. Unfortunately, so do many nimble, furry backyard inhabitants.
Well, no more! We've added some heat to our bird food cylinders. While birds such as chickadees, titmice and nuthatches readily eat foods containing hot pepper, pesky critters will shy away from them.
For best results, use a cylinder feeder with a roof to prevent the hot pepper from being washed off or diluted by the weather.
Fun Facts About Squirrels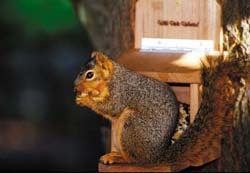 Adult Squirrels can consume about one and a half pounds of seeds and nuts each week, which is roughly the equivalent of their own body weight.
Squirrels' favorite natural foods are hickory nuts, pecans, black walnuts, and acorns. Their favorite feeder food is black oil sunflower seeds, their least favorite feeder food is Nyjer® (thistle) seed.
A 19-inch-long gray squirrel has a seven-foot-long digestive track that enables it to utilize a wide variety of foods including tree fruits, insects, bird eggs and mushrooms.
Squirrels must drink water at least twice per day.
A squirrel's scalpel-sharp incisors grow about six inches per year. As with all the other members of the rodent family, squirrels must constantly gnaw on hard materials to keep them worn down and to sharpen them.
In an hour's time, a squirrel can collect and bury 25 nuts. Unable to remember each nut's location, they find them again by using a highly developed sense of smell.
During a harsh winter a squirrel may loose up to 25% of its body weight.
Most squirrels are active in the winter only around mid-day, during the remainder of the year they are early risers with a peak activity period during the two hours after sunrise and again during the mid-afternoon.
The name "squirrel" originates from the Greek words for shade and tail.
Squirrels will have a litter of three to four young around early January and again in early August. The average life expectancy of these youngsters in the wild is approximately one year, although some captive squirrels have lived up to 15 years.
Squirrels may den in the ground, tree cavities, and in nests they construct that are called dreys. Summer dreys are located in tree branches and consist of twigs and leaves. Winter dreys are waterproof and have a lining of bark, lichen, moss, fur and leaves.
Squirrels can jump up to five feet vertically and ten feet between trees or structures. Placing feeders and baffles outside of their jumping range will help to deter them.
The Gray Squirrel uses its tail as a shield when fighting, as a blanket in cold weather, and, sometimes, as an umbrella during rain storms.
The Gray Squirrel weighs only ½ an ounce at birth and reaches its adult size six months later.
The Gray Squirrel stocks its winter pantry by burying up to 10,000 nuts each fall. It also feeds on grapes, fungi, grasses, larval and adult insects, and amphibians.
The Fox Squirrel sweats through its paws. During hot weather, it will actually leave damp tracks on a dry surface.
I have a bald bird at my feeders - is something wrong?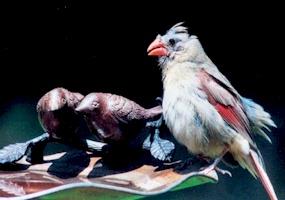 "Bald-headed birds" are often seen in late summer. Usually it is Blue Jays, Northern Cardinals or Common Grackles with a complete lack of feathers on their heads. While the rest of the bird's body looks normal, a completely bald bird certainly raises curiosity.
The most likely explanation for the baldness is an abnormal replacement of all the head feathers (molting) at the same time. Others may include environmental or nutritional factors, feather mites or lice.
There is also some anecdotal evidence that, in some cases, a simultaneous molt of all the head feathers may just be a normal occurrence for a very small percentage of individual birds.
Whatever the cause, bird banding studies show most birds recover from their period of baldness within a few weeks, and that birds recaptured in succeeding years often show no re-occurrence of this unusual molting behavior.