Shop and Save During our Super Sale
Saturday, August 29th ONLY
20% Off All Non-Food Items!*
15% Off Food!*
Daily Savings Club: Save an Extra 5% off Food!
*Valid on in-store purchases of in-stock merchandise on 8/29/15 only. Excludes Optics, DSC, Sale Items & Gift Cards.
Cannot be combined with other discounts including DSC Bird Bucks.

How to Attract More Birds with Seed Cylinders
Making the Most of Late Summer
Though this month marks the beginning of the end of summer, there are still plenty of opportunities to help birds and maximize your backyard enjoyment.
Hummingbird Migration
Millions of hummingbirds are preparing to fly back to their winter ranges. Hummingbirds have been migrating between North and Central America for hundreds of years, some traveling thousands of miles each way.
A high-calorie diet is important to build fat reserves for their trip, so be sure to have your hummingbird feeders ready.
Studies show that most of the hummingbirds visiting your feeders on a day toward the end of migration season are replaced by a new wave of migrants within 24 hours.
Offering Water
Whether they are feeder visitors or not, birds need water for drinking, bathing and preening. Offering a dependable source of water is the simplest and most important step you can take to increase the variety of birds in your yard.
Birds must be ready to fly at all times, especially during migration. Bathing is a critical part of keeping their feathers in top-flight condition.
Deter Unwanted Visitors
Mosquitoes lay their eggs in still water, so open sources of water can cause a potential mosquito problem. Use a fountain, waterfall accessory or Water Wiggler™ to create ripples and prevent mosquitoes from laying eggs in your bird baths. Water in motion is also more attractive to birds.
Visit us soon. We have everything you and your birds need to make the most of late summer.
It's Time to Provide Water
During the hot and often dry conditions that make up the "dog days of summer," you will be doing yourself and your birds a big favor by providing them with a reliable source of water.
Water is very important to birds. Whether they are feeder visitors or not, birds need water. Offering a dependable source of water is probably the simplest and most important step you can take to greatly increase the variety of birds in your yard.
It can also significantly increase your enjoyment of your birds by allowing you to watch their often comical antics as they drink, bathe and preen.
However, as entertaining as it is for us, water (or the lack thereof) can be deadly serious for birds. Birds must be ready to fly at all times, and bathing is a critical part of feather maintenance and staying in top-flight condition.
Water is also vitally important when it's extremely hot and a bird's ability to regulate its body temperature can become stressed. Birds do not sweat and must remove excess body heat through their respiratory system. So when temperatures rise, a bird's respiration rate increases, sometimes to the point that it can be seen panting like a dog. This activity dehydrates birds and increases their need for a reliable source of water to replace lost fluids.
So, while the addition of a bird bath, fountain or mister to your yard can supply hours of enjoyable bird watching entertainment for you, it may also be providing a lifesaving necessity.
How Cool is That! - Chickadees
I have a bald bird at my feeders - is something wrong?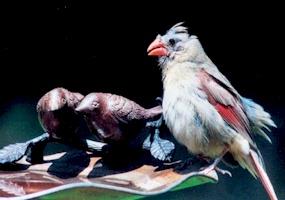 "Bald-headed birds" are often seen in late summer. Usually it is Blue Jays, Northern Cardinals or Common Grackles with a complete lack of feathers on their heads. While the rest of the bird's body looks normal, a completely bald bird certainly raises curiosity.
The most likely explanation for the baldness is an abnormal replacement of all the head feathers (molting) at the same time. Others may include environmental or nutritional factors, feather mites or lice.
There is also some anecdotal evidence that, in some cases, a simultaneous molt of all the head feathers may just be a normal occurrence for a very small percentage of individual birds.
Whatever the cause, bird banding studies show most birds recover from their period of baldness within a few weeks, and that birds recaptured in succeeding years often show no re-occurrence of this unusual molting behavior.
Fun Facts About Molting
Molting is the process by which a bird replaces its feathers.
When a bird replaces all of the feathers on its body, it is described as a full molt. A partial molt may occur between full molts for some species of birds as they replace only a portion of their feathers. An example of a partial molt is when American Goldfinch obtain their bright breeding plumage by replacing only their body feathers each spring. Their body plumage, flight and tail feathers are all replaced during a full molt each fall.
Most backyard feeder birds molt from July-September. Some molt through October like Downy Woodpeckers, Mourning Doves and Eastern Bluebirds. American and Lesser Goldfinches can molt through December.
Typically, birds molt feathers in regular patterns or on specific parts of their bodies, and it may take weeks or months for birds to complete the molting cycle.
American Goldfinches change all their feathers in the fall and just the body feathers in the spring where the male becomes a bright yellow – the better to attract mates.
Coastal Lesser Goldfinches perform a full molt in the fall and some perform a body molt in the spring.
Interior Lesser Goldfinches perform a full molt twice a year: spring and fall.
Protein is essential for growing strong feathers. Fats are essential for feather coloration.
Every molting bird needs extra proteins to grow strong feathers for proper flight and effective insulation. They need extra fats for energy to grow feathers and provide proper coloration to best attract a mate.
Feathers are over 90% protein, primarily keratins. A bird's feathers contain 25% of the total protein found within its entire body.
It takes extra energy to grow feathers and also the right building blocks to grow them. The main ingredients in growing feathers are amino acids (protein) and lipids (fats). Birds will eat more of their daily diet and / or seek out foods high in protein and fat to satisfy both the extra energy requirements and the needed building blocks.
Lipids are substances such as a fat, oil or wax (usually from tree fruits). Dietary lipids supply energy, essential fatty acids and pigments for birds.
Like pigment dyes are used to color our clothes, colors in feathers come from different pigments found in lipids.
Red, orange, and yellows to violet colors = Carotenoid pigments
Black, brown, gray and related tints = Melanin and porphyrin pigments
Blue and white colors = Not created by pigments but by reflections of light off the structural elements of a feather
Greens = Carotenoid and melanin pigments combined with structural feather elements
In many bird species, carotenoids are required for breeding success...poorly colored birds are less likely to breed. Carotenoids help communicate reproductive fitness to prospective mates by providing a vibrant and bright plumage...a sign of being successful at obtaining both a sufficient quality and quantity of food.
The more color and more brightly colored a male House Finch the greater the likelihood of attracting a mate.
A male Red-winged Blackbird's dominance depends on his bright red shoulder epaulettes being bigger than another male's. The larger the red epaulet patch, the better he can defend a territory and attract multiple mates.
A diet low in proteins and fats may cause feathers to be improperly colored or form defectively such as being frayed or curved. If their colors are duller birds may have trouble attracting a mate. If the feathers are defective, it could seriously hinder their flying or insulation abilities.