Buttons the Snowman Seed Cylinder
Buttons the Snowman Seed Cylinder is a mix of safflower, sunflower chips, peanuts, cherries, blueberries and papaya to attract a variety of birds. Simply slide the Snowman Seed Cylinder onto our WBU Seed Cylinder Feeders or WBU Dinner Bell™ feeder and enjoy the feathered holiday visitors.
The Snowman Seed Cylinder is the perfect holiday addition to any yard and a great gift idea for the nature lovers on your list.
Dimensions: 7½" x 3" diameter
Preston the Penguin Seed Cylinder
Available for a limited time only, our adorable Preston the Penguin Seed Cylinder is a mix of sunflower, safflower, pecans, sunflower chips, peanuts, apricot, papaya and blueberries. Preston is the perfect addition to any yard and a great gift idea for the nature loavers on your list.
Seed Cylinders are an easy way to offer your birds a wide variety of food to get lots of birds to visit your backyard. And it's convenient, too. Just set one out and watch. Try offering a No-Mess Seed Cylinder on a Seed Cylinder Feeder and watch your birds chow down.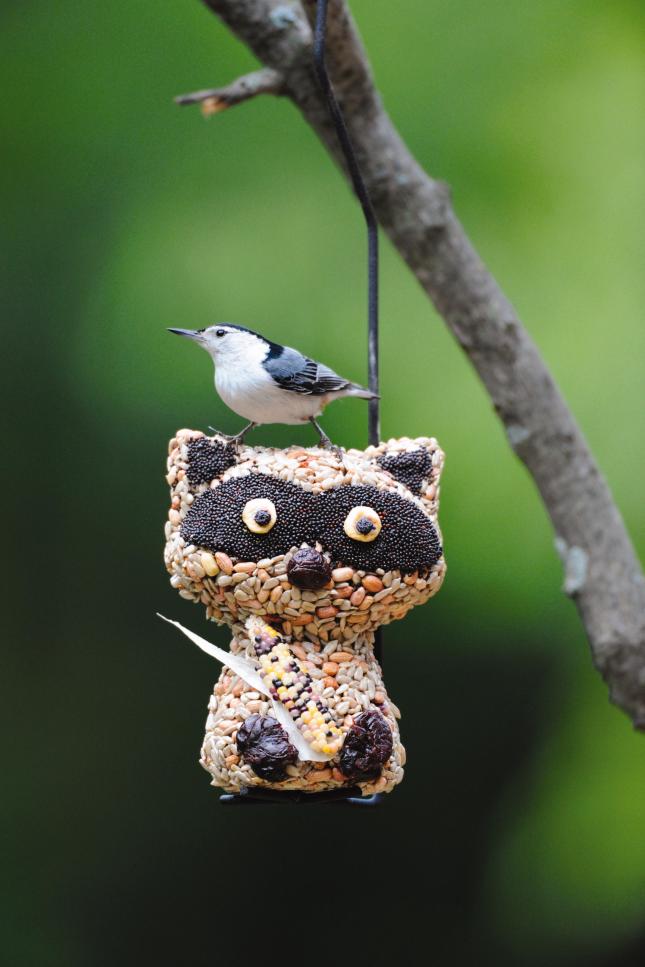 Introducing Rascal the Racoon!
Rascal the raccoon is made of sunflower chips, peanuts, dried apples, cherries and blueberries, canola and he's holding a mini ear of corn! Rascal will attract Cardinals, Chickadees, Titmice, Nuthatches, Jays, Woodpeckers, Finches and more. Fits cylinder feeders. Available ONLY at Wild Birds Unlimited!
We Are Happy to Announce a Series of Birding Field Trips!

We know that you share with us a desire to be outdoors, but schedules are tight and it's so hard to fit in some quiet, quality time to get outside, even for a little bit. And then there's the questions of "Where do I go?" "What do I look for?" "How do I know what bird I'm looking at?"

To extend the passion that we share with you in the store to the outdoors, we are kicking off our series of field trips at Walden Refuge at Blendon Woods Metro Park.

Details:

LOCATION: WALDEN NATURE CENTER and WALDEN REFUGE
DATE: SATURDAY, NOVEMBER 9
START TIME: 9am (approx. 1-1/2 to 2 hours)
Be sure you bring your binoculars, something to drink and dress appropriately including shoes/boots and gloves, as needed.
Keep in mind: this trip is designed for EVERYONE who enjoys birds and nature, regardless of whether you know how to identify one bird or one hundred. If you think you need to be an expert birdwatcher to come, think again! This trip is for you.


Our initial goal is to offer one trip every month.Some potential bird highlights for our future trips:
Pileated Woodpeckers, Great Horned Owls, Barred Owls, Prothonotary Warblers, Eagles , Ospreys, Loons, Bluebirds, Hummingbirds, nesting rookeries and more!
Watch your email and our website for details on these trips and all our other special events and programs.
Feeling Good About Fattening Up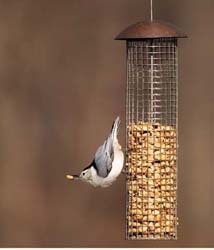 As winter approaches, throw dietary caution to the wind.
We're not talking about some radical new nutritional plan. We're talking about feeding your wild birds high-calorie, high-fat foods to help them survive the winter.
Food is the most essential element to providing birds with the energy, stamina and nutrition they need during the winter months.
To stay warm, birds will expend energy very quickly, some losing up to 10% of their body weight on a cold night.
An ample supply of a high-calorie food, such as suet or peanuts, is critical to a bird's survival.
Suet is a high-energy, pure-fat substance that is particularly helpful in winter when many birds have a difficult time finding the insects they would normally eat.
If you offer suet in addition to your seed, bird species, such as woodpeckers, nuthatches, chickadees, titmice are even more likely to stop by your yard and become frequent visitors.
And if you aren't offering your birds peanuts, you're truly missing out.
Peanuts are also a high-fat food that a variety of birds will eat for an energy-filled treat. In their shell or out, your birds will go crazy for peanuts.
Let us help you prepare your birds for the upcoming winter.
Stop by the store this month and check out our wide selection of suet, suet feeders and peanut feeders. Remember, fattening up this winter isn't a bad thing.
How to Prepare Your Yard for Winter

WBU EcoClean™
Seed Tube Feeder



WBU Roosting Box

WBU Heated Bird Bath

As fall rolls out and winter prepares to roll in, there are several ways you can prepare your yard to help your visiting birds during the coldest time of the year.

Take Stock of Feeders

During winter, birds need high calorie foods to keep their little bodies warm, especially during cold nights. Now is the perfect time to clean and repair your feeders and replace any that cannot be fixed.

Clean your feeders with warm, soapy water, and sanitize them with a 10% bleach solution. If you're looking to replace a feeder, try a Wild
Birds Unlimited EcoClean™ Feeder. These feeders are easy to clean (no bleach needed for sanitizing), and they feature a patented
technology that inhibits the surface growth of damaging bacteria, mold and other microbes. This protection won't wash or wear away, and it uses environmentally friendly technology.

Provide Shelter

Cold winds strip heat from birds very quickly. Birds will seek refuge from the wind in dense vegetation, natural cavities or roosting boxes. Roosting boxes provide birds with a warm, dry location that can help protect them from cold, nasty winter weather.

Offer Water

Birds need water in winter to maintain their feathers for effective insulation. Use a heated bird bath or add a heater to your existing concrete, plastic, metal or stone bird bath. This will help make some water available even on the coldest day. Some concrete baths with an added heater may not be able to handle freezing weather. To
be safe, place a plastic bird bath dish with a heater on the existing pedestal.
Better Seed and Birds = Better Value
Wild Birds Unlimited is dedicated to offering fresh, top-quality seed - the best in the market.
We believe your birds shouldn't have to search through the fillers contained in most discount seed blends to find the food that they actually want. More importantly, we believe you shouldn't have to pay for the fillers.
Our no-waste seed blends are made from 100% edible seed and have been exclusively formulated for the feeding preferences of the birds in our area. That means you only pay for fresh seed that will attract the kind of birds you want to see in your backyard.
So stop by the store this month for the best prices on the best bird food in town. You and your birds will enjoy our food more than what you might find at another store - we guarantee it.
The Newest, Most Exciting Advancement in
Bird Feeding: Bird Feeders & Accessories with
Antimicrobial Product Protection
Available only at Wild Birds Unlimited, our EcoClean™ feeders and accessories are the most advanced bird feeding products available on the market. EcoClean products feature a patented technology that inhibits the surface growth of damaging bacteria, mold and other microbes on the treated product components. This protection won't wash or wear away, and it uses environmentally friendly technology. Click here to learn more.
EcoClean is a trademark of WBU, Inc., Carmel, IN.

How to Attract Goldfinches

Habitat

Goldfinches are found in most habitats across North America, including backyards. To attract goldfinches to your yard, we recommend offering the right food and designated finch feeders or a designated finch-feeding station.

Recommended Food

We recommend offering fresh Nyjer® (thistle) because it is goldfinches' favorite feeder food. Nyjer has a high oil content and is an excellent energy source for these active birds.

Recommended Items

1. WBU Quick-Clean™ Finch Feeders accommodate goldfinches' small bills and allow them to easily dine on Nyjer. These feeders' removable bases make cleaning a breeze. They are easy to fill and hang, deter squirrels and come with a lifetime guarantee.

2. Simply add our Weather Guard dome to your finch feeder to help keep seed dry and protect birds from inclement weather.

3. Because they locate food by sight, provide goldfinches with their own feeding station in an open, easy-to-find area.

Create a goldfinch feeding station with our exclusive Advanced Pole System® (APS) Basic Setup Hanging Hardware. It's easy to construct and maintain. Just plant it into the ground, add the extension poles and arms, and top it with the decorative finial. Then fill and hang your feeders.

Keep your Nyjer fresh and mold-free with Feeder Fresh™. Mix it with the seed in your feeders, and the absorbent granules will "drink up" excess moisture. Feeder Fresh is completely safe for you and your birds.

Nyjer® (thistle)




APS Basic Setup
Hanging Hardware




Feeder Fresh™
The New & Improved Lockdown X
S4 Gear's new and improved Optics Lockdown X System features a high tech harness system that allows for Tension Free Glassing with ShockCord and Anti-Bounce Technology. The Lockdown X's design is unique to all other previous binocular straps and harness systems on the market, since it provides both excellent protection for your optics from the elements and also has a low profile fit and maximum security for your optics. Every field birder should have a Lockdown X to protect the investment on your binoculars while allowing easy access while in the field.