Make March Less of a Stress for Birds
Simply put, March can be a very difficult month for your birds.
Early in the month, birds' natural food supply is at its lowest point of the year. Insect populations are still low, and the few remaining wild fruits, berries, seeds and nuts are either hidden or undesirable. Unpredictable weather doesn't make life any easier. Sunny, warm, spring-like days can turn into cold, damp conditions that challenge birds' survival skills. And to make matters worse, this is all happening as some birds prepare for nesting season.
However, these various challenges provide you with one of the best opportunities of the year to help your birds.
Providing Food Makes a Difference
Offer your birds lots of high-energy foods, such as peanuts and suet. Loaded with fat and protein, these are beneficial substitutes for the scarce insects many birds would eat if they could find them.
Counteract the lack of natural insects by offering protein-rich mealworms. They are eaten by numerous species of birds and can be a lifesaver during a sudden cold snap.
Nesting Birds Need Help, Too
Birds build open-cup shaped nests in trees or on the ground, or they nest in cavities (or holes) in trees. By placing nesting materials and installing bird houses around your backyard, you can entice birds, such as bluebirds, wrens, chickadees, titmice, nuthatches, woodpeckers, Purple Martins, swallows, owls and Wood Ducks. Bird houses can make your birds' lives a little easier. After all, they have already expended a lot of energy establishing territories, courting and looking for scarce food.
If you are using a functional bird house to provide your birds a home, be sure it meets these six requirements:
Designed for the species, according to bird's size and nesting requirements
Ventilation holes to provide release for heat build-up
Easily cleaned
Easily mounted or hung
Durable to withstand several seasons of use
Drainage holes in the bottom of the house
Help Birds Beat Their Winter Woes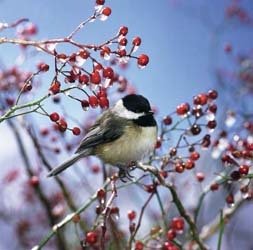 While birds are equipped to withstand most winter weather, they obviously can't turn up the thermostat, throw on an extra blanket or whip up a warm cup of cocoa. However, there are a number of ways you can help make survival easier by providing food, a heated, open source of water and protection from the elements.
The Importance of
Keeping Your Feeders Full
Food is the most essential element, providing birds with the energy, stamina and nutrition they need. To stay warm, birds will expend energy very quickly, some losing up to 10% of their body weight on extremely cold nights, and this fat must be replaced every day.
Normally, birds that come to feeders obtain only about 20% of their daily calories from food offered in feeders; the rest come from natural food sources. In contrast, during periods of cold weather, your birds may use your feeders to load up on calories as a means of survival.
The Importance of a Reliable, Open Source of Water
Birds continue to need a source of water for drinking to maintain their metabolism during dry, cold weather. Clean feathers help birds stay warm, and a bird bath is often the only way for some birds to drink and keep their feathers in top condition when it's cold.
Most birds adjust their feathers to create air pockets, which help them keep warm. The soft, fluffy down feathers are puffed up with air to create a warm blanket around the bird. The body feathers lie on top of each other, overlapping like shingles on a roof. Small interlocking barbules, or "hairs," zip their feathers together to create an airtight windbreaker. Also, most birds preen their feathers with the oil produced by a gland on their backs near their tails to create a waterpoof rain coat. Research has shown that a chickadee with well-maintained feathers can create a 70° (F) layer of insulation between the outside air and its skin.
Protection from the Elements
Birds need a place to escape the elements. Installing roosting and nesting boxes in your backyard can give birds a warm, dry place to stay overnight. Shelter is also necessary for protection against natural predators, such as birds of prey and cats.

True Blue and Warm, Too!
It's really hard to think of wild birds as being loyal friends.

After all, they are truly one of the freest creatures on the planet, able to fly anywhere at anytime with nothing to bind them to any single location.

But birds, like humans, are creatures of habit and bird banding studies have shown that many of our winter birds, such as Juncos and native sparrows, utilize the same wintering location year after year.

With a potential lifespan of over 10 years, it is likely that the Junco gleaning millet off of the ground below one of your feeders has spent many previous winters as your loyal backyard guest. And recent research shows that is only half the story!

These birds are not only loyal to a specific location, but also to a single feeder! The study showed that the only time they abandoned their favorite feeder was during periods of cold weather when the feeder was placed in a location too exposed to the wind.

So help your birds stay loyal and warm by locating your feeders in a sheltered location out of the wind. The east or southeast side of a house or near a row of trees or evergreens is ideal.

Once you have them in a safe and sheltered location, be sure to keep your feeders filled with the high-energy, high-fat foods that provide your birds with the crucial nutrition they need to survive the coldest month of the year.

Take a look inside for more of our expert advice and quality products that will help your birds to stay true blue and warm, too this winter.