*See Store for more details
Help Birds Beat Their Winter Woes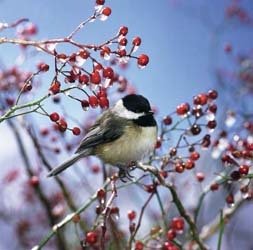 While birds are equipped to withstand most winter weather, they obviously can't turn up the thermostat, throw on an extra blanket or whip up a warm cup of cocoa. However, there are a number of ways you can help make survival easier by providing food, a heated, open source of water and protection from the elements.
The Importance of
Keeping Your Feeders Full
Food is the most essential element, providing birds with the energy, stamina and nutrition they need. To stay warm, birds will expend energy very quickly, some losing up to 10% of their body weight on extremely cold nights, and this fat must be replaced every day.
Normally, birds that come to feeders obtain only about 20% of their daily calories from food offered in feeders; the rest come from natural food sources. In contrast, during periods of cold weather, your birds may use your feeders to load up on calories as a means of survival.
The Importance of a Reliable, Open Source of Water
Birds continue to need a source of water for drinking to maintain their metabolism during dry, cold weather. Clean feathers help birds stay warm, and a bird bath is often the only way for some birds to drink and keep their feathers in top condition when it's cold.
Most birds adjust their feathers to create air pockets, which help them keep warm. The soft, fluffy down feathers are puffed up with air to create a warm blanket around the bird. The body feathers lie on top of each other, overlapping like shingles on a roof. Small interlocking barbules, or "hairs," zip their feathers together to create an airtight windbreaker. Also, most birds preen their feathers with the oil produced by a gland on their backs near their tails to create a waterpoof rain coat. Research has shown that a chickadee with well-maintained feathers can create a 70° (F) layer of insulation between the outside air and its skin.
Protection from the Elements
Birds need a place to escape the elements. Installing roosting and nesting boxes in your backyard can give birds a warm, dry place to stay overnight. Shelter is also necessary for protection against natural predators, such as birds of prey and cats.

Bird Feeding Requires a Little Character
Honestly, could they be more adorable? Available exclusively at Wild Birds Unlimited, we offer several fun Seed Characters, including Hoot the Owl, Rascal the Raccoon, Preston the Penguin and Buttons the Snowman. Each is a mix of seeds, nuts and fruit and a wonderful addition to any yard.
These characters can help you attract many of your favorite birds, including chickadees, woodpeckers and goldfinches.
Buy Two Seed Characters; get ½ Off a Third*
*At Your Westerville WBU. Buy any two seed characters, get 1/2 off the third item of equal or lesser value. Not valid with other discounts or previous purchases. Offer expires 11/19/14.
Providing Food Now Will Help Later
During fall and winter, chickadees, nuthatches and titmice will hide food to retrieve and eat at a later time. This behavior is called "caching." Caching helps birds survive during bad weather and when food sources are low.

These birds store hundreds of seeds a day, and each seed is placed in a different location and they remember where each one is. They can find each site accurately even a month later.

By providing an easily accessible food source, you can help your chickadees, nuthatches and titmice with their caching needs. Below is a little more detail on some of your favorite birds' caching behaviors.



Chickadees

Cache seeds (in the shell and out), nuts, insects and other invertebrate prey
Food is typically cached about 100 feet (30 m) from feeders
Cache more during the middle of the day
May carry off several seeds at a time, but each item is stored in a separate location
Store food in knotholes, bark, under shingles, in the ground and on the underside of small branches




Nuthatches

Prefer to cache hulled sunflower seeds, because they are easier and faster to cache; occasionally mealworms
Choose heavier seeds (because they are larger or have a higher oil content)
Food is typically cached about 45 feet (13.5 m) from feeders
Most active caching time is early in the day
Store food in bark crevices on large tree trunks and on the underside of branches




Titmice

Cache sunflower, peanuts and safflower
Food is typically cached about 130 feet (40 m) from feeders
Cache one seed at a time and typically choose the largest seeds available
Often remove seeds from their shell (80% of the time) before hiding them
Help The Birds, Join Project FeederWatch!
You can help scientists determine how different species of birds are faring.The 2013-14 FeederWatch season runs from Saturday, November 9th to Friday, April 4th. Online data entry will open on November 1. The last day to start a two-day count is Thursday, April 3rd. It's as easy as
1. Install a feeder
2. Count the birds
3. Enter the data for the scientists
Help Your Birds Survive Extreme Winter Weather
Enjoy the time you spend in our store? We do too! When you can't be in our store, visit with us on Facebook. Stop by and find out what our friends are seeing in their backyard, share your photos and stories about the wild birds and other animals you encounter in your backyard or some other part of the great outdoors.
"Like" us today and join in the fun!
At Wild Birds Unlimited, we help people get the most out of their backyard and their bird feeding hobby.