Hummingbirds are Here!
Many of our customers have reported seeing or having their hummingbirds back - So what are you waiting for? Get your feeder out today!



View their progress north

here
We Have Moved to a New Nest!
720 N. State St (at Maxtown/Polaris Pkwy)
(with Giant Eagle)
Bird Moms
A new generation of birds will soon be entering the world and the food and housing we provide can make a significant difference on how well they will thrive and survive in our own backyards.
Recent research studies have shown that bird moms with access to bird feeders will often lay their eggs earlier than those without feeders. This is significant because earlier broods typically have better rates of survival and fledging success than later ones.
Feeders also allow breeding birds to spend less time searching for food and more time selecting better nesting sites and constructing higher quality nests. The adults will also have more time available for protecting their nest, eggs and young from predators.
When abundant, quality food is accessible to parent birds it means that more food is provided to their chicks. Studies have shown that this extra nutrition reduces aggression among nest siblings and increases their rate of growth.
But food is not the only key in helping birds to nest successfully in your yard. A properly designed and installed nesting box can make a significant improvement in nesting success, especially during extreme periods of cold and damp weather.
Now is the time to take action for the next generation of birds in your yard. Drop by the store for all the products and expert advice you need to get started or update your offering.

Mealworms Are For The Birds!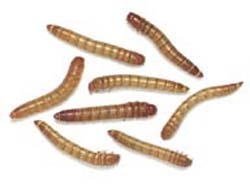 Many birds eat insects naturally, so feeding mealworms to the birds is a natural thing to do. Plus, you'll enjoy watching birds such as chickadees, bluebirds, wrens, towhees, woodpeckers, robins, catbirds, nuthatches, thrashers and others devour these mouthwatering morsels! A Red-breasted Nuthatch was seen taking mealworms from a feeder, and caching them at a rate of three per minute.
Mealworms are the larvae of the beetle Tenebrio molitor. The larvae stage of the beetle typically lasts for 10 weeks. To maintain the larvae in a state of dormancy, they must be refrigerated at 40 to 50 degrees Fahrenheit (lower temperatures can kill the larvae). You can keep mealworms for several weeks and they will maintain their dormant state.
Birds typically look for food around the same time each day, so you can place worms in a feeder or tray at the same time the birds regularly visit. Make sure the birds can access the feeder but that the worms can't crawl out! Some Wild Birds Unlimited feeders to consider are the Dinner Bell and the SideDish™ feeders. Mealworms are a great way to attract birds that don't ordinarily come to seed feeders.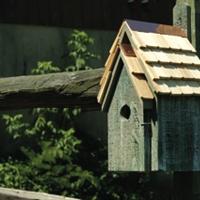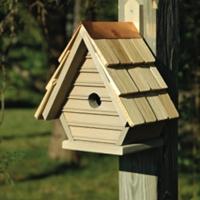 Nesting Season Has Started
Now is the time to prepare for your birds nesting needs. Cavity nesting birds are starting to look for places to build their nests and raise their young. By providing houses that are functional you increase the chances of attracting the birds you want. We carry two types of housing categories. The first is functional and the second is functional decorative.
Pictured are examples of functional decorative that will enhance any beautiful garden area.
Our functional houses are still great looking, just without all the decorative detail
Stop in today to see all of the new arrivals!
Introducing the New & Improved Lockdown X
S4 Gear's new and improved Optics Lockdown X System features a high tech harness system that allows for Tension Free Glassing with ShockCord and Anti-Bounce Technology. The Lockdown X's design is unique to all other previous binocular straps and harness systems on the market, since it provides both excellent protection for your optics from the elements and also has a low profile fit and maximum security for your optics. Every field birder should have a Lockdown X to protect the investment on your binoculars while allowing easy access while in the field.
How to Attract Bluebirds

Habitat

There are three species of bluebirds found in North America, including Eastern, Western and Mountain Bluebirds. They prefer open spaces with few trees like suburban lawns, golf courses and parks. Bluebirds use nest boxes, and they can be attracted to feeders.

Recommended Housing

To entice bluebirds to nest in your yard, we recommend using the Wild Birds Unlimited Bluebird House. Officially approved by the North American Bluebird Society, this house provides protection from weather and extreme temperatures and features the proper dimensions and other amenities bluebirds desire. In addition, the roof opens for viewing eggs and babies, and the side opens for easy cleaning. Available in durable wood or recycled plastic.

Using the Wild Birds Unlimited Advanced Pole System®, place the house at a safe, desired height of about five feet. This height is optimum for bluebirds, and it allows you to easily monitor their progress.

Use the Wild Birds Unlimited Raccoon Baffle to prevent squirrels, raccoons, snakes or other predators from getting to the nest.

Recommended Foods

To attract the most bluebirds to your feeders, we recommend offering mealworms, Jim's Birdacious® Bark Butter® and Bark Butter Bits. We carry a variety of feeders that you can use to offer these foods to your birds.

Mealworms are ideal for providing the necessary protein and nutrients to adult bluebirds and their babies.

Jim's Birdacious Bark Butter is the perfect blend of protein and fat, and it will keep them going regardless of the weather.

Bark Butter Bits contain calcium and may support healthier bones and eggs for mother birds and their babies.

Mealworms
Birds Love Them

Jim's Birdacious Bark Butter
A WBU Exclusive

Jim's Birdacious Bark Butter Bits
A WBU Exclusive
A Dream of a Weaver

Many of us dream of having an oriole take up residence in our yard or neighborhood. To behold a brilliant-colored male, serenading us with its uplifting whistle, is truly a cause for celebration!
Out of nine possible U.S. species, the Bullock's and Baltimore are the most common. These orioles construct one of the most amazing and complicated nests of any North American bird. Looking like a small gourd-shaped pouch hanging from the tip of a thin branch, these nests are skillfully woven out of hundreds of single fibers … one at a time.
The female oriole is the primary engineer and fabricator, but males occasionally plays the role of foreman, supplying materials and conducting inspections while the nest is under construction.
While nests are typically woven out of plant fibers such as strips of milkweed stem, man-made items, such as string and yarn, are readily used in their place. Horses also provide nesting materials in the form of hair from their tail and mane. In fact, many oriole nests collected in the early 20th century, when horses were a major means of transportation, were exclusively made of horsehair.
If your dream is to have one of these brilliant and artistic birds as a resident in your yard, our Certified Bird Feeding Specialists can show you the oriole nectar, mealworm and fruit feeders that might just make your dream become reality.
How to Attract a Greater Variety of Birds

Mesh Peanut Feeder with Peanuts



Finch Feeder with Nyjer (thistle)

SideDish Feeder with Mealworms

Hummingbird Feeder with Nectar

Each bird species has food preferences, and these may change seasonally. Offering multiple kinds of foods throughout the year will help attract a greater variety of birds to your bird feeding station on a regular basis.

Recommended Foods

Beyond our regionally-formulated seed blends, we recommend offering a broad selection of foods that attracts a greater variety of birds and meets their nutritional needs.

Peanuts

The best single source of protein and fat for birds. Some birds will cache nuts to retrieve later, making repeated trips to feeders to gather food.

Nyjer® (thistle)

Goldfinches' favorite food. Nyjer's high oil content is an excellent energy source for active birds and is best used in our specially-designed finch feeders.

Mealworms

Attracts common and uncommon insect-eating birds like bluebirds and wrens. Because mealworms crawl, place them in a smooth-sided feeder where they cannot crawl out.

Nectar

Hummingbirds' favorite food. It's important to continue offering nectar in areas where some hummingbirds stay in winter.

Suet

Woodpeckers' favorite. Suet is a high-energy, pure-fat substance that birds enjoy all year long. It is particularly helpful in winter when birds need more calories to stay warm.

Seed Cylinders

The quickest, simplest, longest-lasting way to feed your birds. Available, in a variety of flavors, our seed cylinders meet the nutritional needs and feeding behaviors of a number of different birds.

Seed & Suet Stackables

The quickest, simplest way to feed your seed- and suet-eating birds at the same time.

Jim's Birdacious® Bark Butter®

The perfect blend of fat and protein, no other single bird food attracts a greater variety of species; over 100 birds and counting.
We are now stocking LIttle White Barn miniature houses. These houses are amazing. They make a great addition to your landscaped beds, adding charm and a whimsical element to your yard. Don't forget Mother's Day is around the corner and any mother would love to have one of these houses in her garden. And they are made in the USA, in fact in Mentor, Ohio - close to home.



After many attempts at developing a lightweight yet durable stone, Adam, the founder of Little White Barn, finally developed a strong yet light stone which he calls simply "14″. It is an "Old World" recipe which has been updated to make one of the most unique and attractive hand-made stones. Many ask "what are the secrets" and Adam replies "it's simple, start with a volcanic glass and a mineral, heat them to extreme temperatures in excess of 1600 degrees, let them pop like popcorn…" needless to say, there's nothing simple about it. The process is very time consuming and laborious but the final product yields a very beautiful man made stone that simply loves being exposed to the weather.
All of the ingredients start as natural occurring products in the environment. No chemicals are used in the production of the stone or in the shop cleanup. Accessories are hand crafted in their little wood and metal shop. Door hinges and metal work are hand shaped and pounded. Chimneys, doors, and cupola's are all hand cut and finished.


Adam is currently working on fairy garden pieces and we will stock those once available. We expect them to start shipping in April or May.